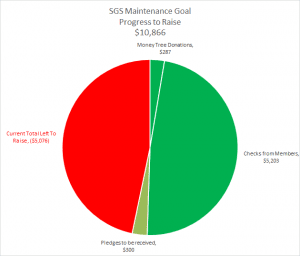 I have exciting news for those of you who can give a little more.  A recent resolution by the SPNW board – sponsored by members of our group – allows every dollar we raise toward a loan to be considered a grant that the group will not have to repay. The $7000 loan we have from the housing fund will turn into a grant once an additional $1,511 has been raised. Please consider donating these funds at your earliest possible opportunity.
I am happy to report that we have just received a generous donation from Subud California at Arcata of $500. This is a significant step toward reaching the member 47% share of costs to repair our building.  Remember the Centerprise will provide 53% of these costs ($12,253) which are now at $23,119.
Outside of the loan from SPNW we still need to raise an additional $3,866.  Any funds you can provide for this effort will assist us in meeting these costs.  We have currently raised $5,489.
Note: Should you be able to pledge to contribute these funds, please let me know and I will add your name to those who have pledged.  Currently we have remaining pledges of $300.