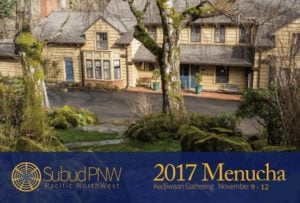 Our annual Kedjiwaan Retreat at the Menucha Retreat Center awaits you.  This is the one time each year where we can be together as a region to experience the power of the large group latihans which include many members from throughout our region and beyond.
It is also the one time to be able to spend times with friends you have known for years that live throughout the region, but with whom you've not seen since last year.
There will also be time for personal testing, workshops that you create and entertainment from talented brothers and sisters from throughout the region.
The retreat center survived this year's devastating fire. We, your regional helpers are ready to serve you. Please register by Sunday 10/29th so that we can submit our final numbers to the retreat center.
With all the chaos going on in our country, there has never been a greater need for a kedjiwaan retreat like the one we have at Menucha.
Looking Forward To Being With You,
Your Regional Helpers,
Elizabeth Flanders
Isadora Roth
Benjamin Boyce
Elisha Gullixson
Oswald Norton