Copied from the Subud California Sun newsletter.
by Halimah Collingwood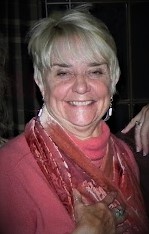 For nearly 60 years, Luzita Davila and I were the best of friends. We met in the music scene of the Bay Area in the mid-1960s. She was this happy, smiling, friendly genuine spark of Life that was at every music concert, party or gathering where she would light up the room.
My boyfriend at the time and I moved in with her in a tiny funky one-bedroom house in Larkspur, a small town in Marin County. She always had her friends from Santa Cruz visiting and going to, you guessed it, parties. When it was just the two of us living in the house, we were like sisters of the Spirit, ready to be on the go…somewhere.
I had already joined Subud when we met and when a job took her to New York City, I knew she was going to need something to keep her sane. I gave her the phone number of a helper I knew there and soon she was an applicant. I'll never forget the first time I saw her after she was opened. She came to visit me on my houseboat in Sausalito. I went to the door at her knock, threw it open and there was this Light in front of me – her smile was so bright, her eyes twinkling and I fell in love with her all over again. My feelings were so deep, I knew that I would die for her to save her life.
We met up again in 1970 at Skymont just before Bapak's visit. She was dating Ralph and they became a couple while there. I went to Indonesia after Bapak left and then the UK, but we continued to write (real letters) and keep abreast of the happenings of our lives.
I wasn't able to attend her double wedding with the MacNeils at Skymont but I was there for their first child's birth. My dear Godson, Hartwell, was born in their tiny cabin in September of 1971, surrounded by her Subud sisters and her Subud midwife. I distinctly remember Ann Holiday saying after two hours of pushing, "If you don't have your baby now, I'm going to take you to the hospital." He popped out shortly after that!!
In 1983 when my family moved from the UK to the US, we stayed with Ralph and Luzita for 10 days while we decided where to go to find our new home. My sons, three and five, who had lived their first years in a village of 100 people in Scotland without any nearby friends, were overjoyed to be living with four Davila children and with the many Gleeson kids next door. Our lives were bound together forever.
When Luzita was a National Helper, she traveled around the country, making close friends wherever she went. Everyone loved her. She was everyone's best friend. I remember going to Subud meetings and gatherings and spending very little time with her because she had to catch up with this lady or have lunch with someone else. I once told her that I was jealous because she never made a point to be with me. She was surprised because we were so close that she thought we'd always be there together. Ever after that she was conscientious to spend time with me at each event.
Over the years, Luzita helped many women transition to their new life, giving her all to those people she loved and who deeply loved her. I once told her I wanted her to be my death doula when it was my time. Little did I know that it would be me who was one of her close friends at her side to say good-bye.
"We'll meet again, don't know where, don't know when, but I know we'll meet again some sunny day!"
I ran across this link from the Subud California newsletter.  Interesting stories from the Arcata group.  It is called the Foggy Flyer!  
https://drive.google.com/file/d/1s7n3JGDfMnqXZOj0TtGu_mURMuUbuG46/view