Monthly Archives:
February 2018
Dear sisters and brothers of the greater Seattle area,
It has been lovely to stay in your beautiful Subud house. It feels comfortable and clean and welcoming – like home. As soon as Philip and I walked in we were impressed by how well cared for it is. Marston, Paul, Debbie, and Ricardo are doing of wonderful job and everything about the house speaks of attention and care – it's a place to be proud of, a place where we would like to bring family and friends.
I have to mention the view from our upstairs bedroom (room 2) window. Across the street are several vintage craftsman houses with various homey activities going on. In the middle distance are feathery trees (no leaves in February) and then a crane lit up in deep greens and blues and another with red on its end. Beyond that are sparkling city lights like jewels and then  furthest of all is the incredible sky, all of which is better than watching TV. Through that window I have watched the sunrise and sunset, beautiful sunny days and glorious clouds and pelting rain and even snow.
Let me add that I've taken full advantage of the sacred latihan space in the old chapel. It has been there for distance telephone latihans with my national dewan or with ill  sisters; for latihans by myself for whatever reason; and of course for the wonderful latihans with my Seattle sisters. It's a blessing beyond words. Finally,We've really enjoyed having friends come by while we're in residence.
All in all, this has been a house of warmth, adventures, comfort, and joy. Thank you.
Love, Alexandra (Boyer)
Ever wonder what the combination of Latihan and Jazz would sound like? Find out every other Saturday and support a Subud Brother as he builds an audience for his unique and accomplished sound. (pdf) From Jim O'Halloran: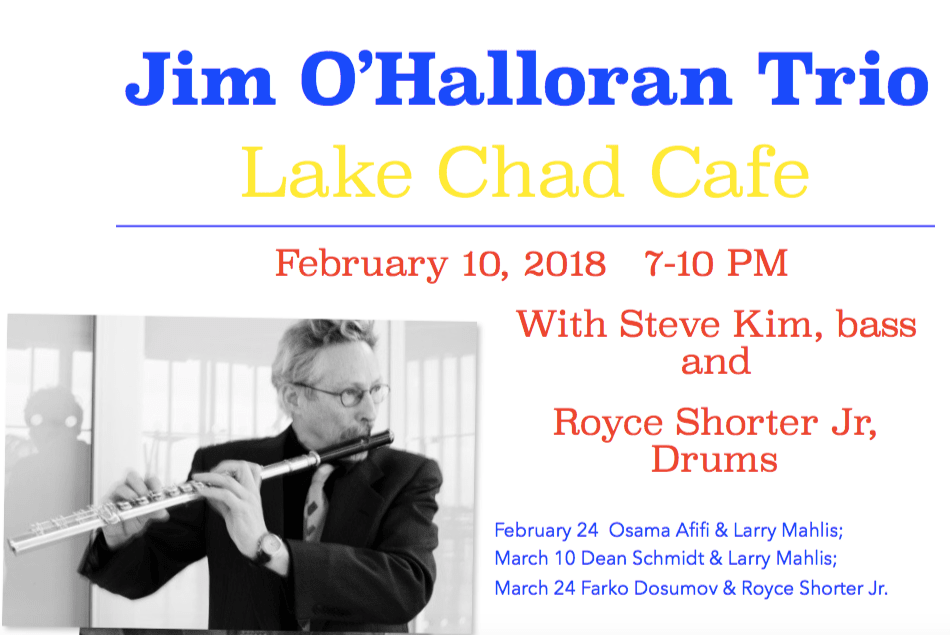 Hi, all, and welcome to the pre-super bowl zone!
This time around will be a repeat line-up for me-Steve Kim on bass, and Royce Shorter, Jr. on drums.
I'm looking forward to Steve's depth of knowledge, commitment to the jazz tradition, and innate musicality,
combined with Royce's amazing ability to understand what is going on and to
add his unique and fiery interpretation drawing on gospel, jazz, R &B, Hip-Hop, and so much more.
We'll be playing some originals, jazz, Latin, Blues, African, and so on-like we always do!
Check out Steve here:
http://kimpossibilities.net
And Royce here:

and here:

And Lake Chad Cafe' here:
http://lakechad-cafe.com/
https://www.yelp.com/biz/lake-chad-caf%C3%A9-Seattle-2
Lake Chad Cafe' 1712 S. Jackson 206-485-7161
Come in, have some delicious African/New Orleans food, Ethiopian espresso, and full bar; and check out the welcoming atmosphere that Felix and Brigitte have created.
Latin dance night on Fridays.
See our schedule on the poster below for the first quarter of 2018—
As usual, no cover; all ages; 7:00PM-10:00PM