Ever wonder what the combination of Latihan and Jazz would sound like? Find out every other Saturday and support a Subud Brother as he builds an audience for his unique and accomplished sound. (pdf) From Jim O'Halloran: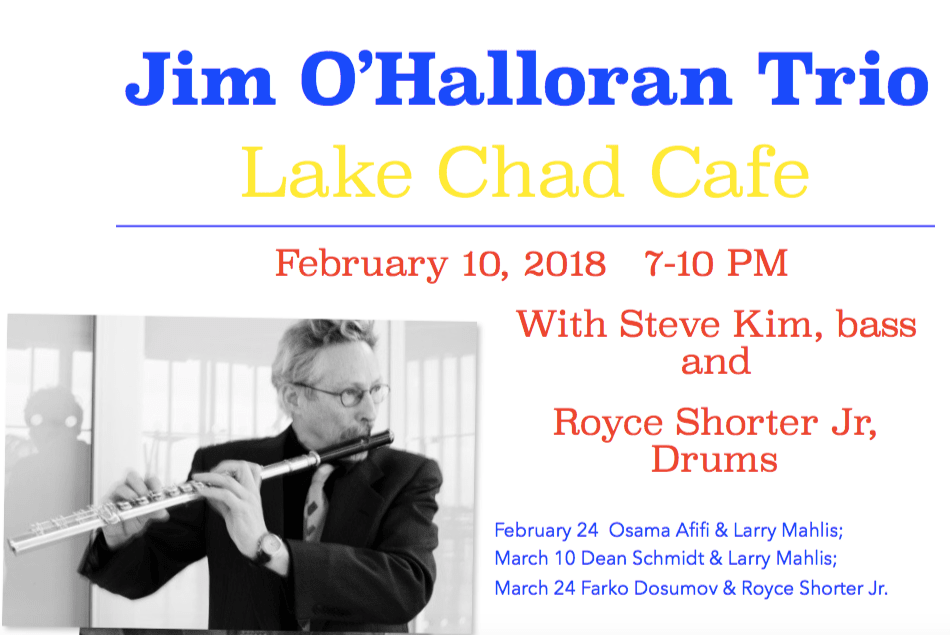 Hi, all, and welcome to the pre-super bowl zone!
This time around will be a repeat line-up for me-Steve Kim on bass, and Royce Shorter, Jr. on drums.
I'm looking forward to Steve's depth of knowledge, commitment to the jazz tradition, and innate musicality,
combined with Royce's amazing ability to understand what is going on and to
add his unique and fiery interpretation drawing on gospel, jazz, R &B, Hip-Hop, and so much more.
We'll be playing some originals, jazz, Latin, Blues, African, and so on-like we always do!
Check out Steve here:
http://kimpossibilities.net
And Royce here:

and here:

And Lake Chad Cafe' here:
http://lakechad-cafe.com/
https://www.yelp.com/biz/lake-chad-caf%C3%A9-Seattle-2
Lake Chad Cafe' 1712 S. Jackson 206-485-7161
Come in, have some delicious African/New Orleans food, Ethiopian espresso, and full bar; and check out the welcoming atmosphere that Felix and Brigitte have created.
Latin dance night on Fridays.
See our schedule on the poster below for the first quarter of 2018—
As usual, no cover; all ages; 7:00PM-10:00PM