The Great Create at Pilgrim Firs had a modest turnout (about 25 folks), but the people who came had a delightful variety of workshops to choose from. It was sometimes hard to decide which to do, especially since the gorgeous lake and hiking trails beckoned us out into the beautiful surroundings. The setting was a fragrant evergreen forested retreat on the Kitsap Peninsula, Pilgrim Firs.
Pilgrim Firs is in a Douglas Fir/Hemlock forest with a pristine lake and hiking trails. Housing included shared rooms in a large lodge and several smaller cabins that one or two people occupied. Several Latihans and generous buffet-style meals topped off the creative workshops and outdoor activities.
Summer time in the Northwest is at its best in our forests. The characteristic fragrance of sun-washed evergreen needles was everywhere here.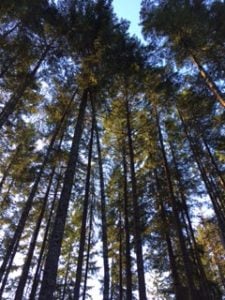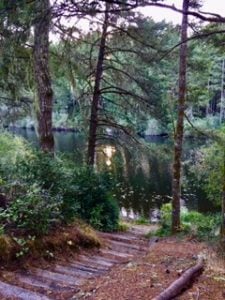 Kayaking, canoeing and swimming were fabulous in the warm weather.
The workshops were great! Michael Dubois and Marius Hubbard led the fabric marbling and Halimah Taylor organized Fun with Clay.
Marlena Knill and Liza Ramey inspired creations with oil pastels and watercolors; Aaron Mann supervised a wonderful glass-fusing workshop, and Hariana Chilstrom directed Bug Art. Virginia Bowers led an interpreted nature walk around the lake, and many folks just ambled on their own.
Most of these photos were taken by Lambert Bazinet of Canada.