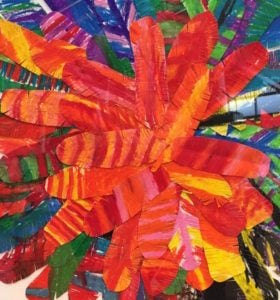 SO LET'S CELEBRATE ON MAY 21 WITH A POTLUCK.
Please join us after our regular Latihan on the 21st.
You'll learn more about our group's history*, and the vital role played by past and present volunteers to make our organization work. Volunteers work on committees, perform helper duties (yes, helpers are volunteers), clean up and beautify our garden and parking strip, enhance and maintain the building, bring food, and lots more. Our Subud House is beautiful and functional largely because of volunteers.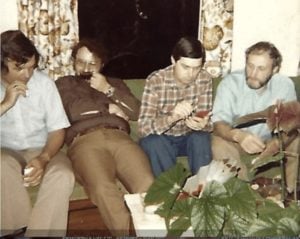 *Who are these guys ?Hamilton Snyder, Sebastian (Robert) Tedrow, Elisha Gullixon and Rayner Burrows in an undated photo c/o Lorraine Tedrow.
If you're planning to come, PLEASE BRING A FOOD OR BEVERAGE ITEM to share. Everyone's contribution is very welcome. It helps to create a hearty and healthy lunch for all celebrants.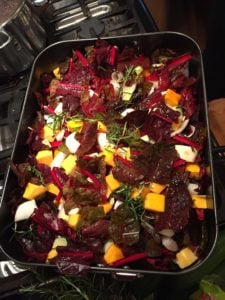 If you know what you want to bring, go for it. Folks with food sensitivities appreciate ingredient labels on your dish. If you have questions, please contact the food coordinator, Lorraine Tedrow: ltedrow2012@gmail.com or 360-708-2706
Yum: roasted veggie dish with kale, sweet potatoes, carrots, rutabagas and fresh rosemary from the O'Bar's garden.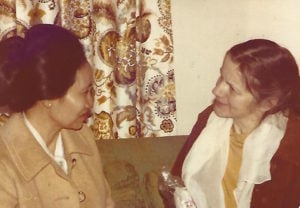 And a few more blasts from the past unearthed by Lorraine:
Ibu Rahayu and Kathy Zink in the Subud House in 1977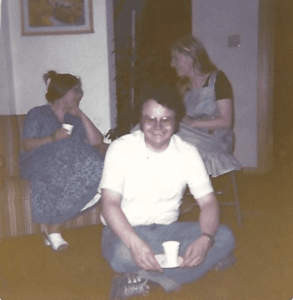 Yes, it's Sebastian (Robert) Tedrow in front, and Lorraine   Tedrow at back left and Helaine Burrows on the right.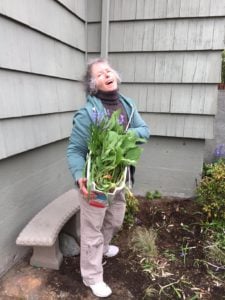 And now, for something more current,  our wonderful                           EARTH DAY CLEANUP CREW
"Saturday April 23 there were only four of us:  Hadidjah and Marston, Phillip and myself.  Given the impending raining forecast for the day we focused on weeding and prepping the parking strip for grass seed.  That day was Hadijah's first time weeding ever!  She and I focused on the winter weeds and bluebells.  We debated about the bluebells and after much thought, she decided they needed to go as they were in the process of overtaking the garden.  She and I focused on two small areas that we knew we could finish before the rain set in.  And guess what?  We accomplished our goal with great satisfaction.  She had a great time and was ready to come back the next day for more."  lucinda O'Halloran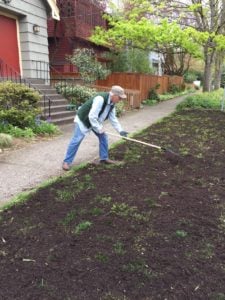 The following day saw Phillip, back again, with Marston and Hariana working on the parking strips.