From Dave Hitchcock:
Dear brothers and sisters
You may have heard that the Bethlehem Retreat Centre in Nanaimo (on Vancouver island) was recently sold. As a result of the pending sale our earlier booking for a gathering in October had to be put on hold. We have now received confirmation that the new owners will continue to run the Retreat Centre and our booking can go ahead as planned.  However, we need to act fast to keep our booking! Here are the details:
There are two registration options:
Full Weekend Rate

Saturday

Day Rate
The Retreat Centre requires a minimum of 20 overnight registrations to be received (with full payment, or at least a $50 deposit) by

August 31, 2015

, for the gathering to go ahead.
Once they have this confirmation and deposit, we can accommodate additional bookings (with full payment, or at least a $50 deposit) until

September 15, 2015

.
We need to provide all special dietary restrictions to the Retreat Centre by September 30, 2015.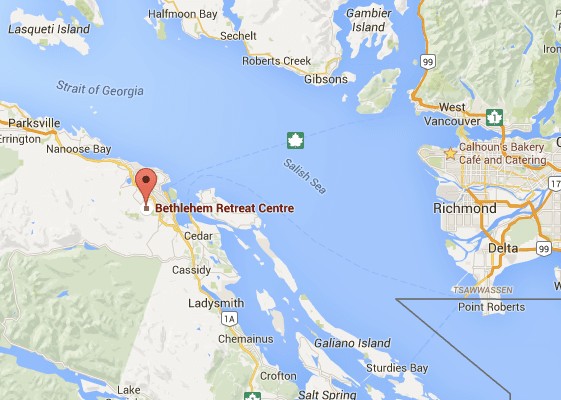 Therefore, as you can see, time is short!
Information about the gathering is set out in the attached registration package.
We ask that you review this information, help to spread the word, and send in your registration as soon as possible, so that we can satisfy the above deadlines.
It would be helpful if you can email hitch@shaw.ca to let us know that your registration and cheque are "in the mail"!
Of course, if you have any questions please contact me at 250 370 1291 or hitch@shaw.ca
We hope that there will be sufficient registrations for this gathering to go ahead and we look forward to seeing you in Nanaimo.
All the best,
Dave Hitchcock
(Western Regional Chair, on behalf of the Regional Council)