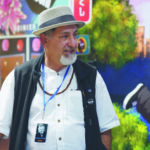 Local Helper (inactive now) and SICA-USA Chair Paul Nelson is coordinating with SICA-International's Andrew Hall in Quebec and SICA-Canada Chair Adelia MacWilliam to continue the popular Zoomuse poetry reading and help it evolve into Poems for Peace. This was published on the SICA-USA website:
The Zoomuse project started by unofficial Subud Poet Laureate Emmanuel Williams has merged with the

Poems for Peace

project, initiated by SICA co-founder Latifah Taormina. The first reading in this merger was given by Andrew Schelling on October 21, 2021. This is now a third Thursday at 11am monthly series on Zoom produced by SICA's Andrew Hall and curated by Adelia MacWilliam, Chair of SICA-Canada and your humble narrator.Consider bookmarking the Zoom link:

https://us02web.zoom.us/j/81799264950

There has been a little pushback regarding poets who have not been opened in Subud and we welcome this discussion. Should Subud be insulated from the larger world and continue its decline in membership and its aging demographics, or should we engage? This is an emphatic bet on engagement. Below are links to the Schelling reading and the Poems for Peace event on World Peace Day last September 21. We hope to stage an in-person Poems for Peace event in 2022 as a SICA collaboration between SICA-International, SICA-Canada and SICA-USA. READ MORE.