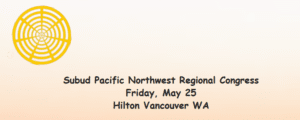 Dear Brothers and Sisters of the Subud PNW Region,
Did you know that if you register for the Subud USA congress and select the box below you will be registered for the Subud PNW Congress for the same price? The PNW Congress is only one day, Friday, May 25th. You will be able to experience general latihans Friday morning and evening. The only additional cost would be for lodging.
I am attending a Regional Congress during this event.
[ ] PNW Regional Congress
We're at an exciting time for our region.  New members being opened. Members from other areas are moving to our region. We have 3 Subud houses all with committees and helpers serving those communities.  What's next for our region?  Come to learn about our region and the hopes and plans we all have for our future.
Early registration (15% Discount!) ends March 13th, so don't delay.
NOTE  Subud PNW members may also choose to register for Day Use only. If you are not staying in the hotel, day use for 1, 2 or 3 days (Friday,  Saturday,  and / or Sunday) are available. In all cases, meals options are available.
For more information on the Subud PNW Congress, please click this link.