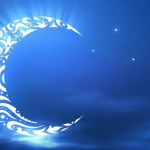 Explanations of the Ramadan Calendar,

compiled from explanations given by Bapak,
by Mas Sudarto and by Mas Prio.
Ramadan started April 24th. Many Subud members fast during this time. Other things to remember, during the month of Ramadan: One refrains from sexual intercourse, and our fasting must also include abstention from the following:
a) We must not use our ears to listen to gossip, quarrels or bad words.
b) We must not use our mouth to say anything wrong or unkind.
c) We must not use the emotions to reach the emotions or passions of others.
d) We must not use our eyes in a way that is not good or nice.
e) We must not use the heart and mind to imagine or think about unhappy things, fantasies or unreality.
f) We must not eat or drink or smoke anything between dawn and sunset each day.
There is more on the Subud PNW website: