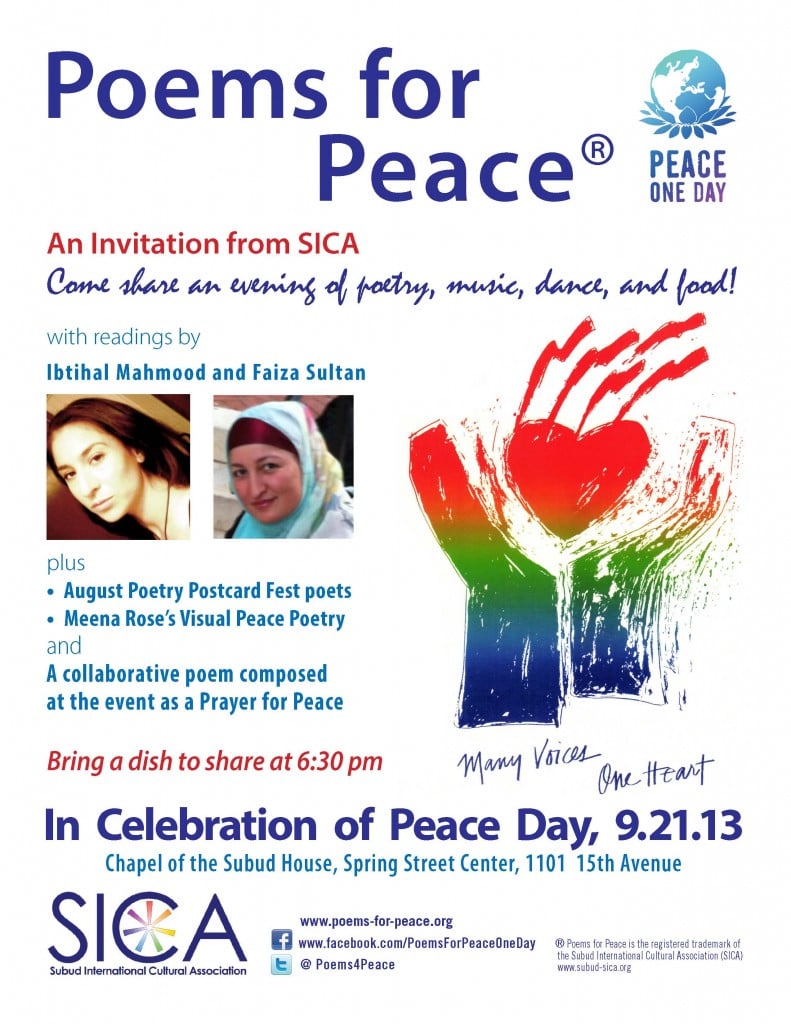 Anne Padilla and I are facilitating an evening of Poems for Peace on International Peace Day, September 21, 2013. An international event preparing for its second annual iteration sponsored by SICA, poetry being the main vehicle by which people express their desire for peace, in all of its manifestations. http://www.poems-for-peace.org/ Bring a dish to share at 6:30.
Poets involved in the recently concluded August Poetry Postcard Fest have been invited and the event will happen in the Chapel of the Subud House/Spring Street Center. There will also be music and dance performance and a collaborative poem composed at the event as a Prayer for Peace. We hope to see you. – Paul Nelson
See also: http://paulenelson.com/2013/09/03/poems-for-peace-seattle/ One poet confirmed:
Let's Give War a Chance
1
كَيْ
يَمشِي الحُبُّ
حافِياًيَطرُقُ
أبوابَ الخَنادِق
So that
Love can walk about
Barefoot, knocking at
The doors of trenches.
2
كَيْ
تَلبسَ الفَراشَةُ
واقِيَة الصدرِ
عِندَ بوَّابَةِ كُلِّ زَهرة
So that
Butterflies can wear
Chest armors
At the gate of every rose
3
كَيْ
تُكَشِّرَ الشمسُ
عن أنيابِها
ويَحتَرِقَ الليل
So that
The sun can bare
Its teeth
And the night can burn away
4
كَيْ
نَبدَأبِالعَدِّ
كم رَأساً
نحتاجُ لِنُفِيضَ نهر
So that
We can start counting down
The number of heads
We will need to overflow the river
5
كَيْ
نَحْكِيَ
قِصَصاً لِأَطفالٍ مُشوَّهِين
عن "مُفَخَّخةٍ فِي بِلادِ العَجَائِب"
So that
We can tell the tales
Of disfigured children
About "A booby-trap in the lands of wonders"
6
كَيْ
نتَعَثّرَ
بِأجسادٍ مُنتَفِخَةٍ بِالأحلام
على أرصِفَةٍ سَوْداء
So that
We can stumble over
Corpses bloated with dreams
On dark sidewalks
7
كَيْ
نرى الوَطَنَ
مِثلَ السَفَّاحِيَطعَنُ أيَّامَنَا
على فِراشِ الحُلُم
So that
We can witness the nation,
Like a murderer, stab our lives
On a blanket of dreams
8
كَيْ نرى
الدُولارَ يتَسَكَّعُ
مع امرأةٍ جميلة
فِي ليلةٍ خانِقة
So that we can see
Dollars flirting
With a beautiful lady
In a choking night
9
كَيْ
تَفرِشَ الأمُّ
جناحيها علىأطفالٍ مَذعورينَ
وتَلتقِطَ القنابِلَبِأدعِيَتِها
So that
A mother can
Spread her wings over her petrified children
And catch bombs with her prayers
11
كَيْ تتَسَلَّلَ الوحدَةُ
وتحتَضِنَ الأرامِل
So that loneliness can sneak in
And hold the widows in its embrace
12
كَيْ
نَسمَعَ العَويلَ
مِن عَصافِيرَ
حُرِّقَتأعشَاشُها
So that
We can hear the wailing
Of sparrows
Whose nests have turned to ashes
13
كَيْ
نتَخَثَّرَمعَ الدمِ
ونُترَكَكأرقامٍ
فِي سِجِلٍّ بارِد
So that
We can clot with blood
And be left as numbers
In a cold record
14
كَيْ
يُوشَمَ السِياسِيُّون
عاهاتٍ سوداء
على جبينِهِمُ
المُتَدَيِّن
So that
Politicians can be tattooed
With dark blotches
On their foreheads
Of religiosity
15
كَيْ
نَلتقِطَ
قنابِلَ بشَرِيّة
خلفَأسوارِ الدين
So that
We can catch
Human bombs
From behind the walls of religion
16
كَيْ
نقترِبَ مِن الموتِ
ونتَحَسَّسَأظافِرَهُ البَشِعةِ
فِي ظُلْمَةِ الوطَن
So that
We can draw closer to death
And feel its disgusting claws
In the nation's darkness
17
كَيْ نبقى
مَحصورينَ
في نُقطَةِ دَمٍ
سقَطَت مِن سُرَّةِ
التاريخ
So that we can remain
Trapped
In a drop of blood
That has fallen from the navel
Of history
18
كَيْ
ننامَ ونَحلُمَ
بِحُروبٍ جديدة
So that
We can sleep and dream
Of new wars
19
كَيْ
تبقى أغانِي الحرب
كعُشِّ الزنابِيرِ
في ذاكِرَتِنا
So that
The songs of wars can remain
Echoing in our memories
Like a hornet's nest
20
كَيْ
نَسرِقَ لحظَةَ حُبِّ
سقَطَت سَهْواً
مِن جُثَّةِ مجهولةِ الهَوِيّة
So that
We can steal a moment of love
That fell off inadvertently
From an unidentified body
21
كَيْ
ننشُرَ الذُّعرَ
في قُلوبِ اليَماماتِ
وهِيَ تُصلِّي
So that
We can spread horror
In the hearts of doves
As they pray
22
كَيْ
نُلصِقَ وردَةً
على جُثّةِ كُلِّ شهيدٍ
لم يَتَمنَّى الشهادة
So that
We can stick a rose
On the corpse of every martyr
That did not wish for martyrdom
23
كَيْ
نُلوِّنَ العالَمَ
بِلونٍ جديد
خَلِيطٌ
من الدمِ
والقُبحِ
والجُنُون
So that
We can paint the world
With a new color
Blended with
Blood
Ugliness
And Insanity
24
كَيْ
نستَقبِلَ في بُيُوتِنا
ضُيُوفاً
لا نَعرِفُهُم
يحمِلونَ نُعوشَنا
So that
We can welcome in our homes
Guests
Unknown to us
And who carry our coffins
By
Faiza Sultan
2013‬